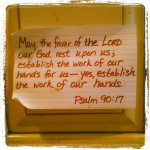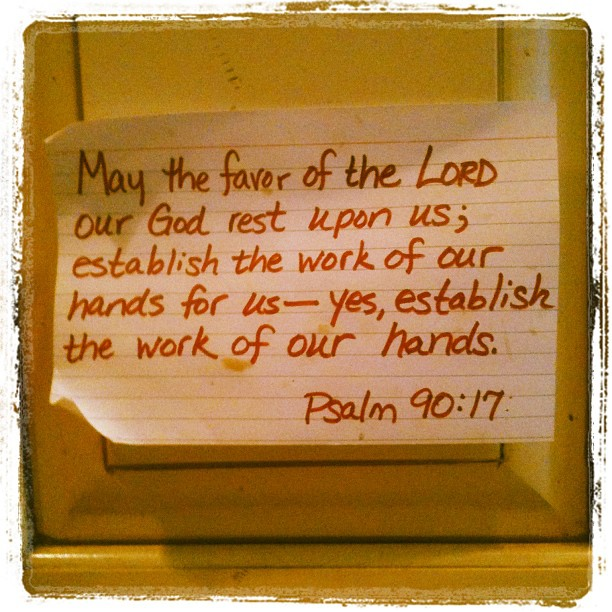 Psalm 90:17 is written on an index card and taped to my kitchen cupboard door. You can tell it's been hanging there now for a few years. The edges of the card are bent; and if you look closely, you'll see some spatters of food or drink around the "of" and the "our."
I keep it RIGHT THERE because it's at my eye level when I'm cooking, which I seem to do a lot of! I need to be reminded that my work matters, as God is "establishing" it: setting it in stone. I can't help but read it and reread it and reread it. And many times, I also pray it.
Not only is running a home tough, but running a home-based business can also be challenging! Results are slow to come or non-existent. You blog. You market. You finish one assignment and take on another. You write a little today on this eBook and a little bit more tomorrow.
But your traffic numbers, your sales figures, and your social media connections don't budge.
What to do?
Pray Psalm 90:17 and realize that your work—all of it—is not in vain.
And guess what? It's not temporary, either.
Yes, I know our earthly lives here are temporary and we await our sure and eternal home. But this verse tells us that the work we do actually endures. It is "established." Furthermore,
If our work today is set in stone, what may it look like redeemed to its intended glory for all eternity?
Wow. Blows my mind.