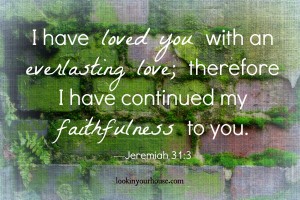 Do you ever meditate upon the quality  and characteristics of God's love? God's love for you is a pursuing love. It is relentless, irresistible, and infinite. God is faithful to love perfectly those whom he chooses to set apart for his affection.
~~~
Important Reminders
Please note: this blog features affiliate links. Should you make a purchase using my link, I will receive a small commission in exchange for my referral.
The following two tabs change content below.
Mary Bernard is a Nashville-based writer and mother of three. She's worked in a variety of corporate and creative environments, but none is more comfortable than the dining room table in her own home. Mary loves to help moms discover God's unique call to look in their own houses for their priorities, passions, and provision.
Latest posts by Mary Bernard (see all)