Wow. We're almost back to school, and I'm overjoyed with ecstasy I hate to see the summer end. We've gotten into some really bad habits this summer, though, which bears a direct correlation to my Type 1-ness  and my P-ness (on the Myers-Briggs profile), I'm afraid. We're going to bed too late and waking too late. We're eating breakfast at 8:30 or 9:00 and staying in our PJs until noon.
So, it's time to turn this ship around. I'm working this week to put some plans in place and communicate our expectations to the kids. Here's what I've got so far: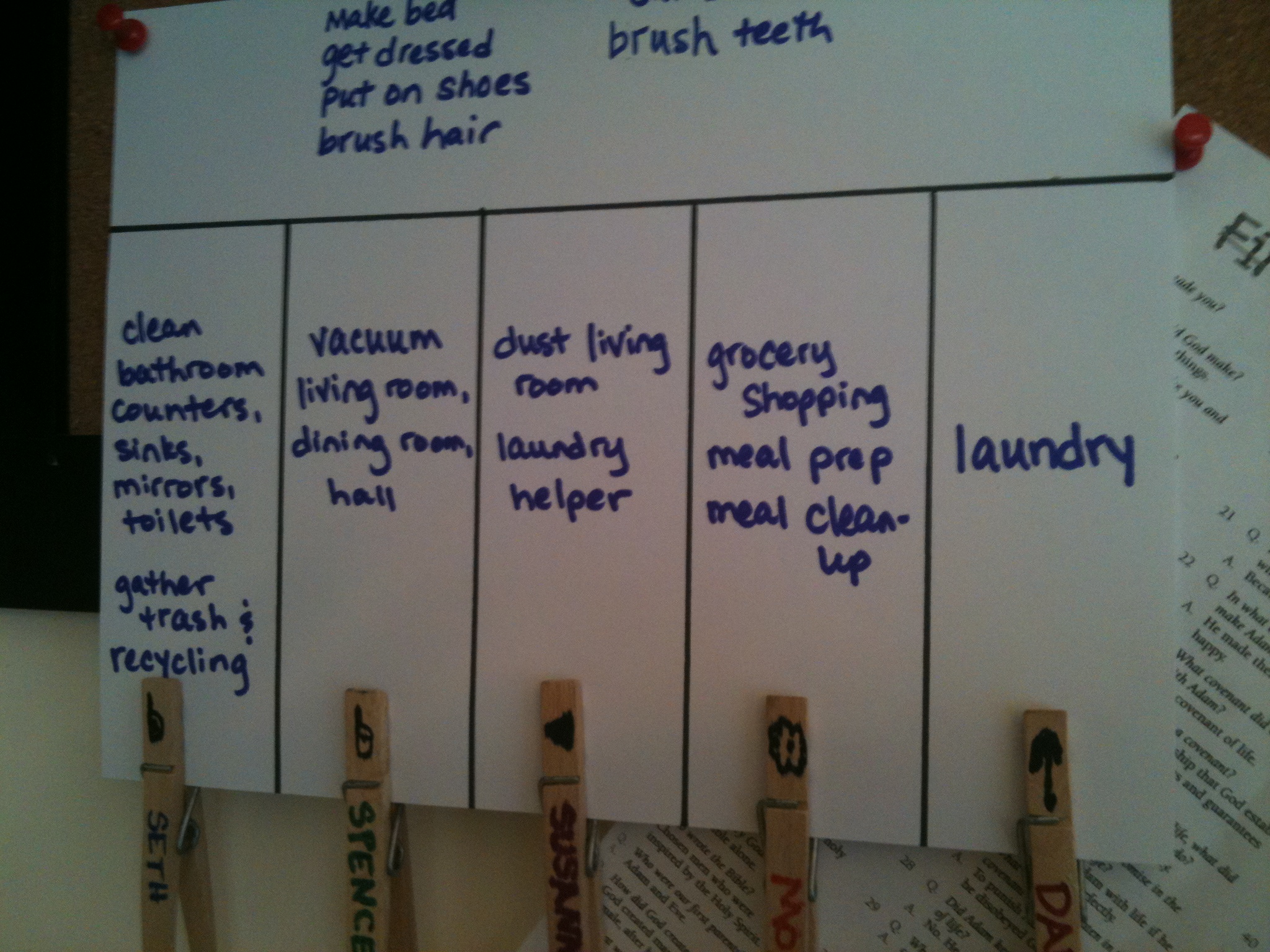 A chart of what's required before school in the mornings:
make beds
get dressed
eat breakfast/put dishes in sink
brush teeth
put on shoes
brush hair
Weekly chore routines are going to be consistently enforced (pray for me!), with everyone doing his or her part. Here's my chore chart; it's five-columns (one for each member of the family, including Mom and Dad) with these chores listed:
dust living room, dining room, and laundry helper
vacuum living room, dining room, hall (high traffic areas)
clean bathroom sinks, vanities, mirrors, toilets, gather trash/recycling
grocery shopping, food prep, kitchen clean-up
laundry
I use a clothespin with each family member's name on it. Each clothespin will rotate weekly among numbers 1-3 (those are for the kids), while I'll take 4 and Chris will have 5.
We will just require these chores to be completed by Saturday at noon. Sunday is a day of rest, and the clothespins move on Monday.
I figure this is the bare minimum we need to maintain order, we'll all thrive in the structure, and maybe the kids will learn some responsibility skills. The rest? I'll "catch as catch can" and not worry about it. Really. I can't. I'm going to be working more this school year and will do well to just keep the wheels turning. Or maybe my dreams will come true, and we'll get to hire a housekeeper.
We're also cutting way back on TV and video games this school year. Again, pray for me to be a consistent enforcer, because my kids love their screen time. But I know there are so many more worthwhile and edifying things they could be doing instead.
Isn't it amazing that at the beginning of the summer I had dreams of our family sitting in circles singing Kumbaya, reading stacks of library books, and doing flash card drills until everyone had leaped an entire grade level in reading and math? And here we are, drowning in our Super Mario Brothers video game addiction and sassy attitudes.
Are you anything like that, too? (Please tell me I'm not alone.)
How are you getting ready for back to school at your house?
How do you handle chores and screen time limits? Share with others in the comments below.

Want more Look In Your House?
~~~
Don't miss a post. Subscribe to my blog now, please!
Disclosure: I feature affiliate links on posts on this blog. If you follow my link and eventually make a purchase, I will receive a commission from my referral. You will never pay more through my affiliate link; in fact, you may receive a better price because you were referred by me.
Important Reminders
Please note: this blog features affiliate links. Should you make a purchase using my link, I will receive a small commission in exchange for my referral.
The following two tabs change content below.
Mary Bernard is a Nashville-based writer and mother of three. She's worked in a variety of corporate and creative environments, but none is more comfortable than the dining room table in her own home. Mary loves to help moms discover God's unique call to look in their own houses for their priorities, passions, and provision.
Latest posts by Mary Bernard (see all)