I have been consumed (consumed, I tell you!) with a social media phenomenon this week surrounding the overnight success and explosive viral growth of a Facebook fan page called Crock Pot Girls. In fact, you've probably "liked" it and at least a dozen or so of your friends have "liked" it within the last few days.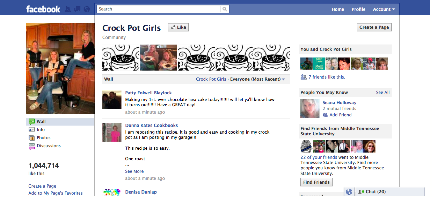 I noticed in my Facebook news feed that three or four of my friends had "liked" it, so I clicked over to see what I was missing if it was something I should "like" as well.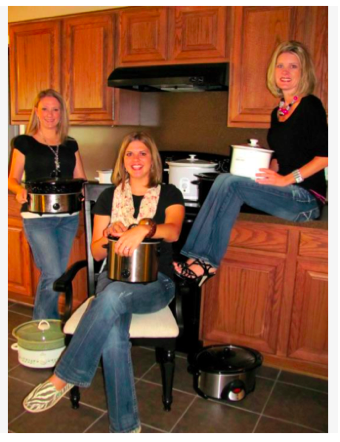 When I got over to the page, I noticed a rather non-descript photo of three women decked in black holding their Crock Pots (with a couple of Crock Pots on the floor—why did you put them on the floor?). The wall posts were just three- and four-ingredient recipes and lots of people saying, "I love this page!" and "I love my Crock Pot!" and things like that.
Since I've been in an "un-liking" mood lately on Facebook and I have gotten rid of at least a couple of Crock Pot and slow cooker recipe books at yard sales in the last few years, I chose not to like the page and move on. I can't remember at the time how many fans the page had except that it was already passed 100,000, which I remember impressing me but not enough to have me explore it any further.
Fast forward a few days and I noticed another friend's post about a separate website calling the instant popularity of the Crock Pot Girls page and its viral growth into question (this is a wonderful post, incidentally, and the commenters raise some interesting points). Since Wednesday night (less than 48 hours), this page has jumped from 800,000 to almost 1.1 million fans. Absolutely unbelievable.
After some research on Google through various posts and persons' hypotheses (another post with excellent comments that you must check out), I have come to my own conclusions about this unprecedented turn of events. Here's what I think happened (completely my opinion and speculation):
Three moms got together and said, Hey let's put up some Crock Pot recipes on Facebook.
They did that.
People liked the page and their friends liked the page. (What I can't account for between August 19 and say, August 28 or so is how so many people found out about the page. Once people were "liking," their friends saw that and followed suit. But how did that first handful become alerted? Not sure. Several commenters on posts have said that it could have been FB bots working to get followers. Many say they've looked through the FB accounts of the posters on the Crock Pot Girls page and they seem to be "fake" accounts. Others say the friends who liked the page originally in their stream are now not listed as "likers" of the page. If you refresh the Crock Pot Girls FB page and watch the counter, I guarantee you it will jump 30, 40, or 50 likes per click! To me, that's not just crazy; it's really impossible. Will the counter ever stop, even for 5 minutes?)
Then, regardless of how those first thousand folks got onto the FB page, legitimate people joined, something unbelievable happened. At this point, it has become the "perfect storm" of:

Women love their Crock Pots (as a friend, who is a working mom of four, said yesterday when we discussed this).
Women are incredibly busy and don't have the time, interest, or skills to make meals every night from scratch.
The FB page format capitalizes on the human ego by allowing others to post their recipes, their variations, their suggestions, and their experiences. People love to talk about themselves, even if it's just about their favorite Crock Pot recipe (which I don't really get, but whatever—then again, I do have a blog … ha!).
I counter the legitimate, organic nature of the growth, however, with these arguments:
You can Google "Crock Pot recipes" and get your hands on any type of free Crock Pot recipe you want. That's a heck of a lot easier and streamlined than wading through hundreds of wall posts about all types of ingredients.
Crock Pot and slow cooker cook books abound. I have gotten rid of several.
As far as I'm concerned, Stephanie O'Dea is the consummate Crock Pot girl, but she devoted an entire year to a create journey through slow cooking. Through that, she has become a bestselling Crock Pot cookbook author. But it took her a year to find her fan base and maintain it. And her FB page has only 4400 fans.
The Crock Pot Girls and their "people" should expect a cease and desist letter really soon. Crock Pot is a trademark. I suspect the owners are doing their own investigation into this.
And—for the record, I love my Crock Pot. So, I consider myself one of the target audience. I am a busy mom; I work, take care of home and family. I use my Crock Pot about 3-4 times a month. But I find little value in joining this FB page and posting my recipes (readily available in a variety of places) alongside comments of my undying love for the page and my beloved kitchen appliance. I say, MAJOR disconnect between reality (what's happening on their page) and my own experiences as a member of the target audience.
What do you think? There's more to come in this saga and I can't wait to see how it all unfolds. I'll keep you posted.
Oh, and for your Crock-Pot-ing pleasure, I offer you my all-time favorite Crock Pot chicken recipe. 😉
Important Reminders
Please note: this blog features affiliate links. Should you make a purchase using my link, I will receive a small commission in exchange for my referral.
The following two tabs change content below.
Mary Bernard is a Nashville-based writer and mother of three. She's worked in a variety of corporate and creative environments, but none is more comfortable than the dining room table in her own home. Mary loves to help moms discover God's unique call to look in their own houses for their priorities, passions, and provision.
Latest posts by Mary Bernard (see all)